Karpathos Island is the second largest Greek island in south east Aegean sea. Yes, Karpathos Island is one of the beautiful destinations that you can explore to admire the beautiful of coastal surroundings. Well, Karpathos Island is very popular or its beaches, coastlines and tourist-friendly local surroundings. Today, on this travel blog we are here with some excellent details about the best coastal attractions that you can explore in Karpathos Island. If you are ready to enjoy a perfect stress-free and relaxing vacay in Karpathos Island then we are here to help you. Yes, for more details you can take a look on the details that are shared on this blog.
Well, Karpathos Island is the perfect destination where you can enjoy your time in the most stunning beaches to have a great time. And, this blog will serve you the best details that can help you to plan a fantastic trip to this beautiful Greek Island. You can relax on your couch and read this blog t know more about Karpathos Island tourism. So, if you are excited and want to know more then take a look on the details that are shared below.
Apella Beach
This is one of the beautiful beaches of this Karpathos Island. This entire beach is surrounded by beautiful mountains, pine trees, beach umbrellas, and chairs that will surely help you to enjoy a perfect beach day on Karpathos Island. This is one of the popular attractions in Karpathos Island that is surrounded by the most wonderful hillside full of wildflowers and greenery that offers you to click the most outstanding and finest pictures of the coastal lines. This award winning beach is located on the east coast of north Pigadia. And, exploring this beautiful beach can help you to enjoy a perfect day time in the serene beauty of the Greek coastlines of Karpathos.
Pigadia
Pigadia town is one of the popular tourist spots on this Island where you can explore the most fantastic taverns, restaurants to enjoy the most delicious cuisines, food, and drinks. This village is very beautiful and charming to seek the attention of the people and you can enjoy boat rides to admire the beauty of the town during the night time. This port village is a major tourist center that helps tourists to enjoy a perfectly relaxing and wonderful time on this beautiful Greek Island.
Achata Beach
This beach is very popular for its beautiful hilly surroundings. This beach is popular for its crystal clear water where you can get the peace of mind to enjoy a stress-free day. Similarly, it is a popular spot where you can enjoy snorkeling, swimming activities to have fun in the beautiful coastal surroundings of Karpathos. Apart from that, you can also visit Diakoftis beach, Legkos beach, Araki beach, and Agios Nikolaos Beach of Karpathos Island to enjoy a splendid tropical seaside holiday near the attractive and breathtaking beauty of Sandy beaches and turquoise water.
Kira Panagia Beach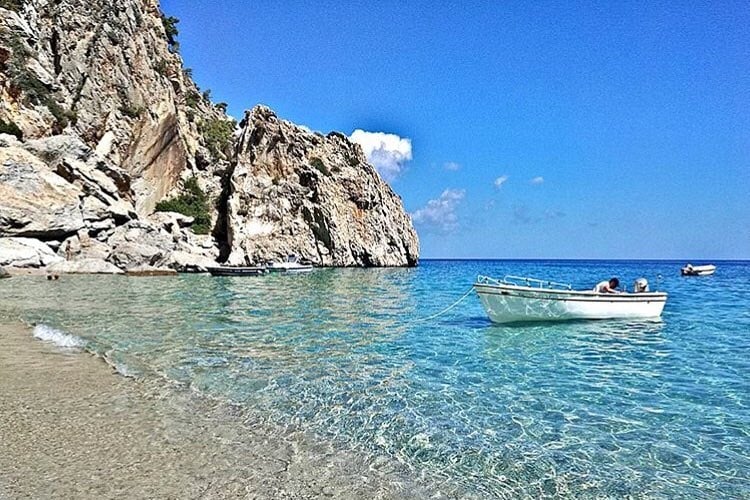 This is one of the most popular beaches of this Island that attracts people from all around the world to admire the fantastic beauty of this tourist beach. It is located on the eastern coastlines of Karpathos island this beach is surrounded by golden colored sand and teal Blue water that make this beach the most breathtaking coastlines of this Island to get isolated. You can relax enjoy the beauty of the breezy surrounding and you can enjoy snorkeling activities to have extra fun. Similarly, you can visit Olympus, Agia Sofia Basilica, Folklore Museum, and Saria Island to enjoy a spectacular unforgettable holiday time in the gorgeous coastal surroundings of Karpathos Island.
Therefore, these were the best and breathtaking serene coastal attractions that you can explore in the surroundings of Karpathos Island. Thus, we hope that this blog has delivered you all best details regarding Karpathos Island tourism and if you want more details regarding travels then you can surely visit our website.